"Art enables us to find ourselves and lose ourselves at the same time."
– Thomas Merton
Put your hands up if you feel this way:
I am NOT an artist
I can't paint
The last time I did art was back in school
I never studied art or taken an art class before
I can't create a painting that is worth looking at
Why try something that I am not good at?
I am shy and afraid to paint in front of others
I could go on and on…
Yes? I hear you loud and clear.
Trust me, I know what that feels like. I've been in your shoes before – not wanting to go for a beginner's class because I thought I didn't have any talent, believing that I'm not an artist and that I can't paint. It wasn't until I learnt that it is the process of art-making that truly matters. We often get stuck in our left brain thinking that wants to know what the outcome would be and the product that we are going to create! Scroll below to read testimonials (link below) that will show you examples of what you can create at these workshops – to get you excited, ease your anxieties and help you feel safe within, before you say YES! to open the gateway to your creativity and surprise yourself!
During our time together, you will practice letting go of your need to know and allow the unfolding of your painting process at the canvas as I hold sacred space for you. I will show you exactly what to do, step by step as we progress through the layers together. This is an opportunity for you to tap into your inner child energy, to be gentle with the voices of the Inner Critic, to engage your Love-based muscles and meet yourself with Compassion. I invite you to spend Quality Time with yourself.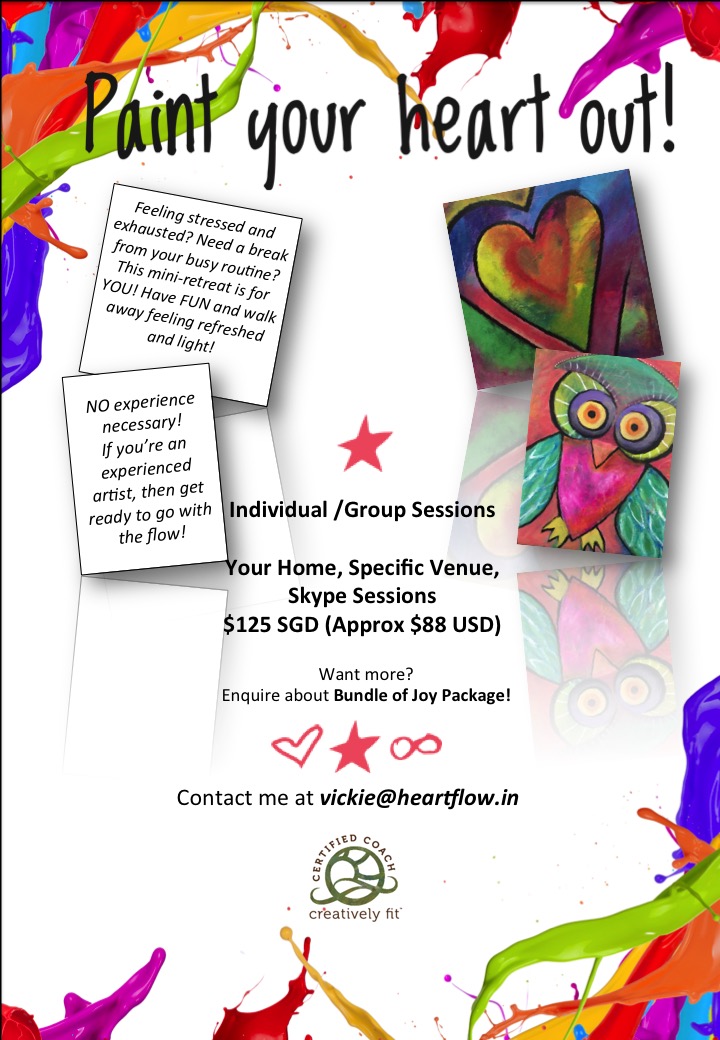 This is what you will walk away with:
Experience LOTS of FUN!
Owner of a self-created painting!
Feel connected to the moment of creating and become fully present
Feel the stress lift off your shoulders
Change your limiting belief of not being able to paint (imagine being able to change all the other limiting beliefs you have of not being able to do something?!)
Feel empowered about your creative abilities
Let go and trust your intuition
Realize that you are not alone with how you feel
Experience what it feels like to focus on a voice that speaks with kindness
Gain insights about your Life's journey
Take a Leap of Faith. You'll never know until you try!
When: *Request for a session*
Time: 2.5 to 3 hours of commitment to yourself!
Flexible arrangements are possible i.e. at home, specific venue, Skype or Zoom sessions
I have had sessions with people from Canada, Belgium, the U.S., Ireland!
Self-investment: $125 SGD (Approx $88 USD)
Bundle of Joy Package: 1 Soul Clarity Session + 1 Painting Session + 1 Customised Follow Up
Self-investment: $300 SGD (Approx $210 USD)
TAKE ACTION NOW
Answer the call of your Soul.
Contact me here
"Art washes away from the soul the dust of everyday life."
– Pablo Picasso

I felt the painting was a fun activity but revealed a lot about my inner state of mind. You were able to help me make meaning of my painting and explain what symbols could have meant for me. And it was a very safe environment that you created by doing it together with me and taking me through the stages slowly.

You were patient and very assuring as a facilitator of the activity.

Vicky was great in organising and coordinating the painting event for our group. She was helpful in guiding me to explore more about myself through the process. During the activity, we had to interact with each other which gave us various opportunities to understand each other better. Vicky has a sincere way in allowing me to make sense of things through the process and it has been an enjoyable and fulfilling time together.